September 2011
SmartCooks here.
This posting is going to be my recipe index of dishes.
Good way to keep track of what I like .... and how it went as I cooked the various dishes. I've only but a few of what I have collected over the past few years.
I can see a huge limitation with this blog template I've chosen i.e., dumb girl's first trial version for me.
Basically, I want to be able to have the Index come up first on the blog. Ideally, a viewer could select a recipe and, by clicking on it, get to the page with the recipe and/or story.

Featured recipes would be on the main splash page with a picture and maybe 100 words of text and then a jump to the sub page with the full recipe. My "Asides" would be in a separate series of postings maybe a separate box on the main page. I'd re-arrange this blog which I see is basically a long running commentary with no order to it...... so a limitation.
I can practically visualize what I want but is that a blog? or a website? and how do I design either? Next challenge.... I see that mac has a feature called iWeb, design your own website with photos, video and even widgets. I might play around with that over the next few days and see what I can get. It also turns out there are templates for everything these days, including one pictured right. Of course, they cost. I'm not there yet, so I will carry on....
So, back to the Index..... I've kept a typed up list of recipes and a stack of pages from recipe books and pages off the internet all paper clipped together and organized with index tabs. I add in new ones by hand ... and NOW I can keep track this way...
SmartCooks Recipe Index
SmartCooks Favourite Appetizers
Homemade Hummus with Guacamole and Tomato served on mini rainbow coloured sweet peppers (alternative versions available) (*)

Balsamic-drizzled grape tomatoes, served on water crackers

Smoked salmon roulades

Thai Springs rolls with Rice Paper (Beef, Asparagus, Sauce, pictured, right)

SmartCooks Favourite Beef Dishes
Asian Flank Steak

Beef Fajitas: Skirt Steak

Thai Style Beef

Wine-marinated Flank Steak, with carmelized onions, roasted potatoes and arugula salad

Rib eye steak/Asian inspired marinade

Pho bo beef (pictured, left)

Hot sesame beef



SmartCooks Favourite Chicken Dishes
Thai Lime Chicken Stir-Fry

Low-fast Chicken Satay, Peanut Sauce

Tequila Lime marinated Chicken

Chicken, vegetable strings, hot bouillon

Stir-fried chicken with crisp vegetables

Orange-spiced chicken

Lemon chicken

Lemony Roast Chicken

Vietnamese Lemongrass Chicken (pictured, right)
SmartCooks Favourite Fish Dishes
Salmon with dill mustard sauce (pictured, left)

Crisp-skinned maple salmon with fava bean, red potato and mushroom compote

Roasted salmon with beets and greens

Cedar-planked salmon with Sea Salt
Nihari Stew

Beef or Chicken Pasandra

Mushroom or cauliflower Bhajis (pictured, right)

Zucchini paneer

Curry with onions

Ghee (basis for dishes)
SmartCooks Favourite Pasta Dishes
-- Lemon pasta
-- P
asta with brie, tomato
-- Pistachio Lemon pasta
-- Asparagus and Zucchini ribbons in lemon pasta (pictured, left)
-- Fresh Tomato Sauce with Zucchini spaghetti
-- Fresh Tomato Sauce and Homemade Meatballs
SmartCooks Favourite Pork Dishes
-- Bacon-wrapped Pork Tenderloin (pictured, right)
-- Cinammon Apple Pork Tenderloin
-- Chinese Pork Tenderloin
-- Pork Tenderloin with lime-beer marinade
-- Grilled Lemon Lime Thyme tenderloin
-- Pork with Leeks in Mustard Sauce
-- Pork Tenderloin with Sticky Lime Glaze
-- Pork Tenderloin with Horseradish Crust
-- Pork Tenderloin with Carmelized Onion and Apple
-- Company Pork Tenderloin
-- Pork and Asparagus Stir Fry
SmartCooks Favourite Salads
Asparagus, with Hazelnut vinaigrette
Beet and Ginger
Beet and Vidalia onions, toasted almonds
Beet and Fennel salad, Asian style
Insalata Caprese
Vegetable Herb Salad
Cucumber Radish
Radish and Asparagus (pictured, left)
Watermelon, feta and cucumber
Thai-style cucumber-radish
SmartCooks Favourite Soups
-- Vegetable stock (Basic)
-- 5 types of mushrooms with lemongrass
-- Tom Yum Vegetarian soup
-- Squash and Fennel, with Cider and Apple (pictured, right)
-- Mushroom Broth with Sherry
Lemon Roasted Potatoes
Minted Grilled Zucchini
Grilled Sweet Peppers
Asparagus with Mixed Vegetables
Zucchini Carpaccio with Lemon, Herbs and Goat Cheese
Heirlooms carrots (pictured, left)
Zucchini Fritters
Garlic scapes with any stir fry
Wild Garlic in ANYTHING
Rainbow Swiss Chard with pine nuts, pan roasted garlic
One-pan braised Kale with bacon and new potatoes
Japanese Style Grilled Eggplant
Just Plain Ole Gazpacho
Turkish Eggplant
SmartCooks Favourite Desserts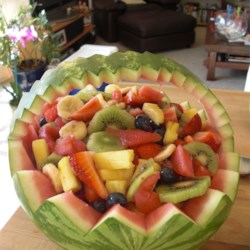 Homemade Vanilla Ice Cream with Triple Sec
Homemade Cherry Garcia
Watermelon Summer Fruit Bowl (pictured, right)
Pear and cranberry crisp
Apple crumble
Limoncello
SmartCooks Other
Lemongrass Chili Sauce
Scones (basic)
Fresh Tomato Sauce (basic)
South Beach Breakfast Sasuage/Egg Muffins (make ahead)
Bento Box (recipes for lunches in Bento boxes, (pictured left)
SmartCooks Egg and Sausage McMuffin-ish