SmartCooks here with my favourite four Zucchini recipes ...
I love Zucchini (or 'curcurbita pepo' according to web research). Yellow, green, striped ... I could live on zucchini. Or 'Zukes' as I call them. I almost always do a stir fry for dinner that includes zucchini. I can't go into a farmer's market without buying more.
Funny, because I grew up without knowing of its existence. Googling 'zucchini' I discovered it was not widely known or used in North America until 30 years ago but now everyone seems to have embraced zucchini (ahem, one member of my household hasn't) but I certainly have. Nor did I realize it was a staple of Mexican/Mayan cooking centuries ago, ended up in Italy, was adopted by France and Britain and then made its way back to North America. Go figure....
I also used to get confused on terminology as depending on the recipe cookbook, a recipe would call for Italian squash, summer squash, yellow squash, courgettes etc., but now I know they all mean 'zucchini'. In recent years, mostly at farmers' markets, I started to find 'patty pan' (flying saucer) type zucchini and zucchini blossoms (the flower at the top) and incorporated them into stir frys as well.
Zucchini is an extremely versatile food... a vegetarian's paradise as one website called them. Zucchini can be eaten raw, shaved, baked, steamed, stuffed, peeled, dipped in egg, stir-fried and used as a main or side dish, salad, and even used in as a pasta substitute and in making bread or muffins. Bonus ... it is also very low calorie as it has a high water content and contains many healthy anti-oxidants. It is easy to find organic zucchini. And double bonus, it is colourful and livens up many menus.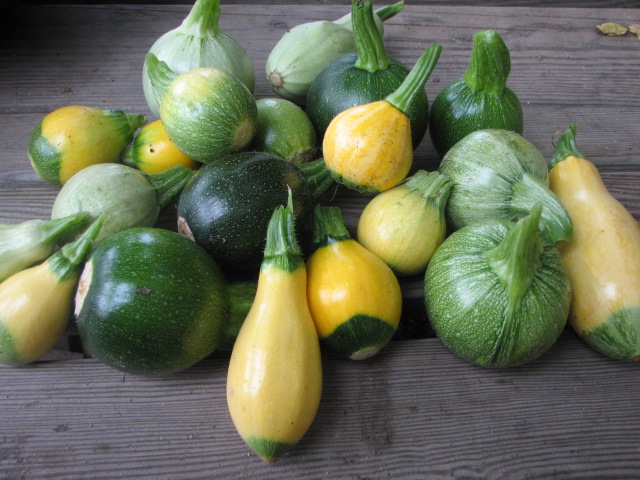 My favourite zucchini recipes use fresh zucchini, but some are include freezing cooked zucchini. I highly recommend them all as tried and true. Martha Stewart's website currently has more than 60 recipes for zucchini and they all look fabulous. I will try some of them and report on the best.
As I find others, I will add them here.
Favourites
1) Zucchini Fritters
2) Minted Grilled Zucchini
3) Zucchini Carpaccio
4) Zucchini Bread
1) Zucchini Fritters
** I first made this recipe while watching the funeral for New Democratic Party Opposition Leader Jack Layton who died of cancer in August 2011. It brought back memories so I wrote an Aside and posted it separately.
(The original recipe for Zucchini Fritters from Smitten Kitchen makes about 10 fritters. I wanted to freeze them and had a refrigerator full of fresh zucchini so I tripled the recipe to make 30 fritters about 2.5 inches long. Smitten Kitchen also consulted SimplyRecipes, which I find a fabulous site for many recipes. Martha Stewart also has a recipe for fritters but she does not squeeze out the water as recommended in Smitten Kitchen... will be interesting to try both types and compare.)
Ingredients:
3 pounds (6-7 medium zucchinis)
3 teaspoons coarse or Kosher salt, plus extra to taste
6 scallions, split lengthwise and sliced thin
3 large eggs, lightly beaten
Freshly ground black pepper
1.5 cups all-purpose flour
1.5 teaspoons baking powder
Olive oil (or another one of choice), for frying
To serve (optional) (Note these ingredients are for 10 fritters, not 30)
1 cup sour cream or plain yogurt
1-2 Tablespoons Lemon juice
1/4 teaspoon Lemon zest
Pinches of coarse salt
1 small minced or crushed clove of garlic
Directions:
If using some right away, preheat oven to 200 degrees. Have a baking sheet ready to keep them warm until serving.
Trim ends off zucchini and grate them either on the large holes of a box grater or, if you have one, using the shredding blade of a food processor. You want the fritters to have rope-like strands and frankly like a mop.
In a large bowl, toss zucchini with 1 teaspoon coarse salt and set aside for 10 minutes. Wring out the zucchini in one of the following ways: pressing it against the holes of a colander with a wooden spoon to extract the water, squeezing out small handfuls at a time, or wrapping it up in a clean dishtowel or piece of cheese cloth and wringing away. You'll be shocked (I was!) by the amount of liquid you'll lose, but this is a good thing as it will save the fritters from sogginess.((I ended up with 4 full cups of zucchini liquid using cheesecloth. And then what do you do with the zucchini liquid? hmmm)
Return deflated mass of zucchini shreds to bowl. Taste and if you think it could benefit from more salt (most rinses down the drain), add a little bit more; we found 1/4 teaspoon more just right. Stir in scallions, egg and some freshly ground black pepper. In a tiny dish, stir together flour and baking powder, then stir the mixture into the zucchini batter.
In a large heavy skillet — cast iron is best — heat 2 tablespoons of oil over medium-high heat until shimmering. Drop small bunches of the zucchini mixture onto the skillet only a few at a time so they don't become crowded and lightly nudge them flatter with the back of your spatula.
Cook the fritters over moderately high heat until the edges underneath are golden, about 3 to 4 minutes. If you find this happening too quickly, reduce the heat to medium. Flip the fritters and fry them on the other side until browned underneath again, about 2 to 3 minutes more.
Drain briefly on paper towels then transfer to baking sheet and then into the warm oven until needed. Repeat process, keeping the pan well-oiled, with remaining batter. I like to make sure that the fritters have at least 10 minutes in the oven to finish setting and getting extra crisp.
For the topping, if using, stir together the sour cream, lemon juice, zest, salt and garlic and adjust the flavors to your taste. Dollop on each fritter before serving. These fritters are also delicious with a poached or fried egg on top (I haven't tried that yet).
Do ahead: These fritters keep well, either chilled in the fridge for the better part of a week and or frozen in a well-sealed package for months. When you're ready to use them, simply spread them out on a tray in a 325 degree oven until they're hot and crisp again. I put them in ziploc bags (3-4) for a serving for one, main or side dish.
2) Minted Grilled Zucchini
This one is a keeper. I've only ever found it in a recipe book (one of the few I still own) called 'New Vegetarian: Bold and Beautiful Recipes for Every Occasion', first published in 2001.
I use many recipes from this book and the one for Minted Grilled Zucchini has been a hit every time I serve it. It is easily doubled or tripled depending on the number of guests.
Note: I've also seen this recipe with a gremolata, where finely minced parsley, garlic and lemon zest are mixed together and served with the zucchini. It's a nice variation.
Ingredients:
4 medium zucchini, about 2 lbs.
2 T of olive oil
4 teaspoons white wine vinegar
a handful of mint, leaves torn
kosher or sea salt and freshly ground black pepper
Directions:
Trim and discard the ends off the zucchini, then cut it lengthwise into ribbon-like slices and put in a bowl. D
rizzle with the olive oil and gently toss the slices until well coated.
Heat a grill pan or non-stick skillet until very hot. Add the zucchini ribbons in batches and cook until softened and marked with black stripes on both sides.
Transfer to a shallow dish and drizzle with the vinegar while the zucchini are still warm. Add salt and pepper and let cool.
Pile the zucchini ribbons into a serving bowl, sprinkle with the mint and lots of freshly ground black pepper. Serve.
3) Zucchini Carpaccio (i.e,. very thin slices)
Nearly every site has a recipe for its version of Zucchini Carpaccio. They all include some version of lemon, lemon zest and pine nuts. Some use avocados and pistachios that works very well as well. Kalyn's Kitchen did a recipes with herbs and goat cheese, which is also good.
Here is my absolute favourite, always gets complements. I've adapted it from Chef
Paul Bertolli's site
as I browsed reviews of his book, Cooking by Hand. I particularly like the champagne vinegar as I always have it on hand and sometimes look for recipes that use it so I can use it up. It can be a side dish or I've even had it as a meal if not as hungry or I'm the only one eating it (frequently the case).

Ingredients:
1/4 cup

champagne vinegar

2 tablespoons

minced shallots

1 teaspoon

salt

3/4 cup

extra-virgin olive oil

2

small green and 2 yellow zucchini (8 ounces total), and can even use patty pan squash (flying saucer type)

1/3 cup

toasted pine nuts

1/2 cup

slivered fresh basil leaves, (can also add more like dill and basil if really like herbs... I do!)

Parmigiano-Reggiano cheese
Preparation:
1. In a bowl, mix 1/4 cup champagne vinegar, 2 tablespoons minced shallot, and 1 teaspoon salt. Let stand 5 minutes.
2. Whisk in 3/4 cup extra-virgin olive oil.
3. Rinse 2 small green and 2 yellow zucchini (8 ounces total) and trim off ends. Using a mandoline, slice squash lengthwise 1/16 inch thick, discarding first and last slices from each.
4. In single-layer batches, steam squash over boiling water until barely tender when pierced, about 1 1/2 minutes. Arrange warm slices in a single layer in a cooking parchment-lined baking pan and brush tops with vinaigrette. Cover and chill until cold, at least 20 minutes.
5. Arrange slices, mixing colors evenly, on six large plates. Drizzle with a little more vinaigrette and sprinkle with 1/3 cup toasted pine nuts (2 oz.) and 1/2 cup slivered fresh basil leaves.
6. Shave Parmigiano-Reggiano cheese over servings to garnish, and drizzle with a little more olive oil.
4) Zucchini Bread

This has been this year's revelation for breakfast muffins or bread. There's an abundance of good recipes out there but the one I use most frequently is from 101Cookbooks:



Tips from site: Curry powder can be substituted for a Moroccan spice called Raz el Hanout. I looked it up as it does sound amazing with apparently up to 90 different spices from cinammon, to orris root and lavender etc. I have never seen it around Ottawa and would have to order it. The website I tried seems to be out of business but I will persevere.

For 2 loaves in 5" x 9" loaf pans

Ingredients:

1 1/2 cups chopped walnuts, plus a few to sprinkle on top
1/3 cup poppy seeds (optional)
zest of two lemons (optional)
1/2 cup crystallized ginger, finely chopped (optional)
1/2 cup unsalted butter
1 cup sugar
1/2 cup fine grain natural cane sugar or brown sugar, lightly packed
3 large eggs
2 teaspoons vanilla extract
3 cups grated zucchini (about 3 medium), skins on, squeeze some of the moisture out and then fluff it up again before using
3 cups whole wheat pastry flour (or all-purpose flour)
1 1/2 teaspoons baking soda
1/2 teaspoon baking powde
1 teaspoon salt
1 teaspoon cinnamon
1 tablespoon curry powder (optional)

two 1 pound loaf pans (5 x 9 inches)

Directions:
Preheat oven to 350°F. Butter the two loaf pans, dust them with a bit of flour and set aside. Alternately, line the pans with a sheet of parchment. Leave a couple inches hanging over the pan for easy removal after baking. Just grab the parchment "handles" and lift the zucchini bread right out.
In a small bowl combine the walnuts, poppy seeds, lemon zest, and ginger. Set aside.
In a mixer, beat the butter until fluffy. Add the sugars and beat again until mixture comes together and is no longer crumbly. Add the eggs one at a time mixing well and scraping down the sides of the bowl between each addition. Stir in the vanilla and then the zucchini (low speed if using a mixer).
In a separate bowl, combine the whole wheat pastry flour, baking soda, baking powder, salt, cinnamon, and curry powder. Add these dry ingredients to the wet ingredients in two batches, stirring between each addition.
By hand, fold in the walnut, poppy seed, lemon zest, and crystalized ginger mixture. Save a bit of this to sprinkle on the tops of the zucchini loaves before baking for a bit of texture. Avoid over mixing the batter, it should be thick and moist, not unlike a butter cream frosting.
Divide the batter equally between the two loaf pans. Make sure it is level in the pans, by running a spatula over the top of each loaf. Bake for about 40-45 minutes on a middle oven rack. Under bake zucchini bread ever so slightly to ensure it stays moist. Keep in mind it will continue to cook even after it is removed from the oven as it is cooling. Remove from the oven and cool the zucchini bread in pan for about ten minutes.
Turn out onto wire racks to finish cooling - if you leave them in their pans, they will get sweaty and moist (not in a good way) as they cool.